Excellent off-Road capabilities!
The Derex 1340-14X DR is the ultimate 6×6 dual rotary drilling rig designed to conquer tough terrain and deliver exceptional performance. Whether you're facing rugged landscapes, remote locations, or challenging environments, the Derex 1340-14X DR is your steadfast partner for your water well, geothermal and RC exploration projects.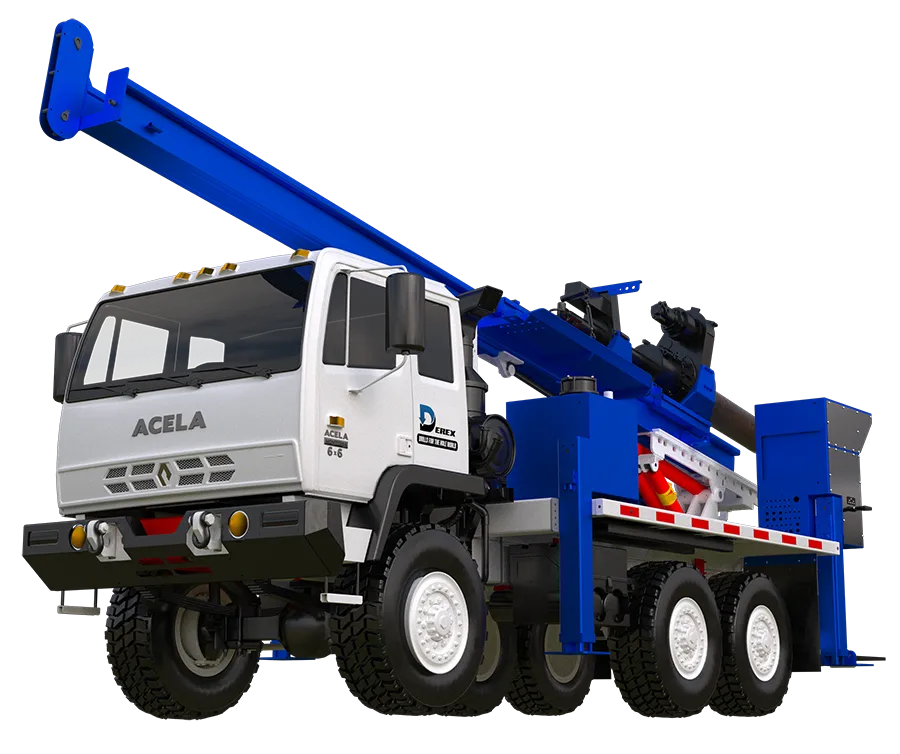 Derex 1340-14X DR Features & Specifications
Truck
Acela Monterra 6×6
No Emission Controls
330HP Caterpillar 7.2L Turbo-Charged Diesel Engine
Full-Time All-Wheel Drive
Allison Automatic 7-Speed Transmission
U.S. Army "Ultra-Reliable" Certification
22″ Ground Clearance
Deck Motor
Cummins 6.7 litre 300 HP tier 4
Hydraulic System
Bosch Rexroth plus gear pump
Top Head
Variable torque and RPM with 2" thru-hole
0-125 rpm @ 3,500 lbf
Lower drive
Variable torque and RPM with 10" thru-hole
0-23 rpm @ 20,000 lbf
Diverter
Simple seal design with 4" NPT discharge
to control cuttings.
Derrick & Feed System
13' top head stroke
40,000 lbs pullback
20,000 lbs pulldown
100 FPM
Derrick slide/ dump
4' Derrick slide for angles up to 45°
Main Winch
Manual jib
2,500 lb.
Remote on helpers side for winch
Control Panel
Straight hydraulic controls (no electrics to fail)
Marine grade electric switches (for lights)
Murphy engine monitor display
Twin platforms
Levelling Jacks
Four 36" stroke independently controlled
Night Lights
6 LED night lights
Tool Boxes
30"x 18" x 18"
Overall Dimensions
Length: 24'11"
Width: 8' 6"
Derrick up height: 24' 6" – 28' 6" with Derrick slide
Derrick down height: 11'
Water Injection
9 gpm FMC injection pump
Gross Weight
28,000 -30,000lbs
Derex 1340-12X DR Options
Sand Line Winch
1,500' sand line
Mud Pump
3x2x13 centrifugal 300 gpm/300 psi
Centerline piston 150 gpm/600 psi
Air Compressor
Vanair/ Sullair 600 cfm / 250 psi @ 1,800 rpm and 733 cfm / 150 psi @ 2,200 rpm.
Line Oiler
Many oilers available
Water Injection
18 gpm FMC injection pump
Drill pipe packages
Wire feeder and box
Hydraulic or gas welders