Dual Rotary Drilling Rigs
Drill cased holes quickly and easily with our Dual Rotary Drilling technology! When compared to conventional drilling methods, Dual Rotary Drilling is by far the fastest and most effective technique of drilling unconsolidated formations (sand, gravel, cobbles, and boulders). The versatility of the Derex Dual Rotary Drilling rigs will allow you to drill more holes and expand the capabilities of your drilling operations.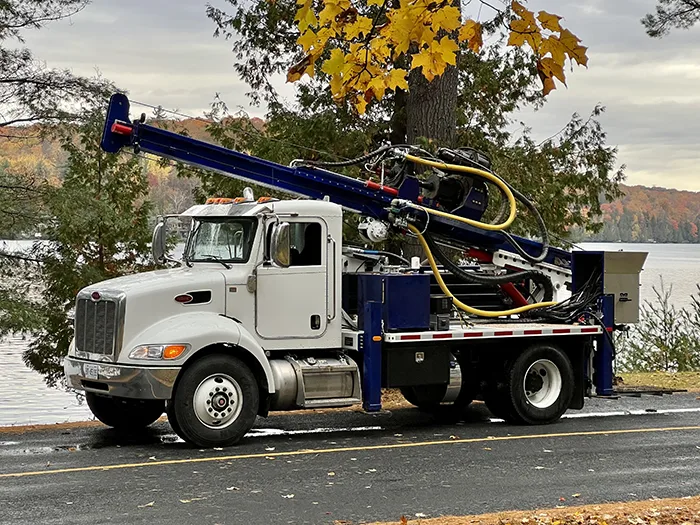 This fuel-efficient drilling rig was built for the toughest jobs, the Derex 1340 and Peterbilt 536 is the perfect combination of power and dependability, while still being capable of being driven without a CDL.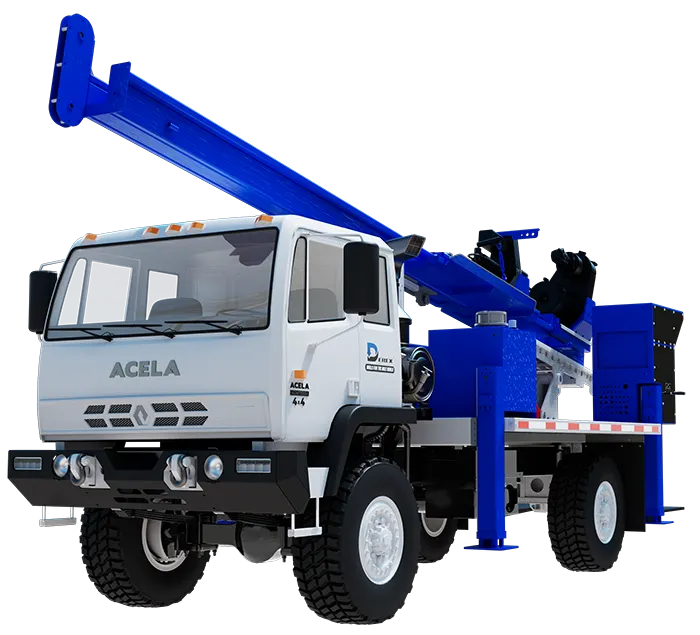 As experienced drillers, we understand that dealing with tough terrain is part of the job. Which is why we developed the 1340 DR drill on the Acela Monterra 4X4. Not only will this new drilling rig help you achieve your production goals, but it also opens up areas previously unreachable.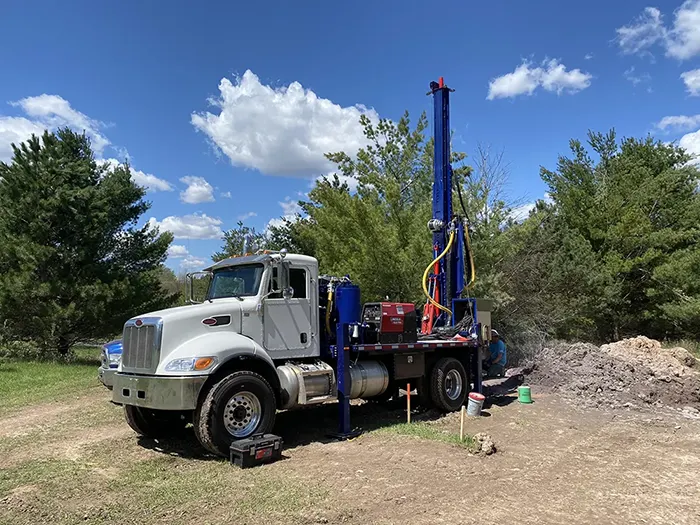 Conquer tough ground conditions in record time on your next water well, geothermal, or RC exploration project with the innovative Derex 1340-14 DR. Enjoy the legendary performance and reliability of the 1340 drill mounted on the impressive Peterbilt 567, making this drilling rig a true work horse for the serious driller.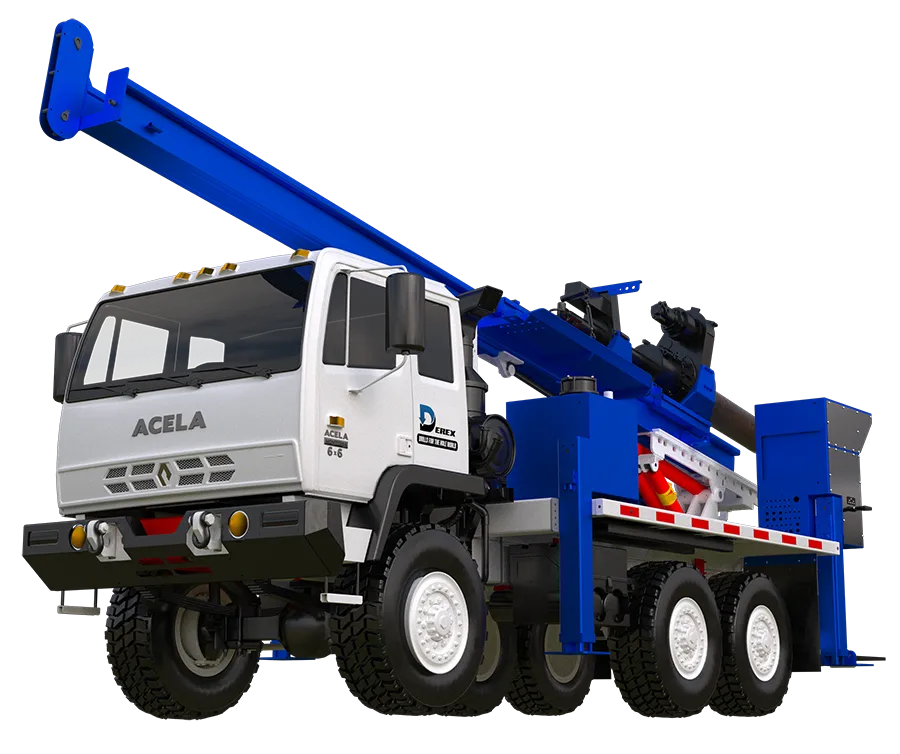 The Derex 1340-14X DR is the ultimate 6×6 dual rotary drilling rig designed to conquer any terrain and deliver exceptional performance. Whether you're facing rugged landscapes, remote locations, or challenging environments, the Derex 1340-14X DR is your steadfast partner for your water well, geothermal and RC exploration projects.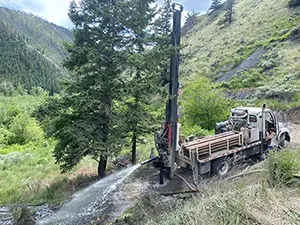 Finish your water well, geothermal and RC exploration projects quickly and efficiently with the Derex 1340-16 DR. Derex Dual Rotary Drills have been proven repeatedly in some of the toughest unconsolidated overburden formations, including sand, gravel, glacial till, and boulders. Mounted on the Peterbilt 520, the Derex 1340-16 will reliably get you to your next job site in style and comfort.
SINGLE Rotary Drilling Rigs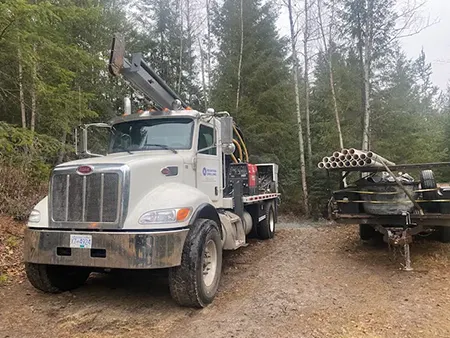 The Derex 2630-22 is a top drive only drill with various mud pump options, built around the Peterbilt 567 Tandem on a 22 foot deck.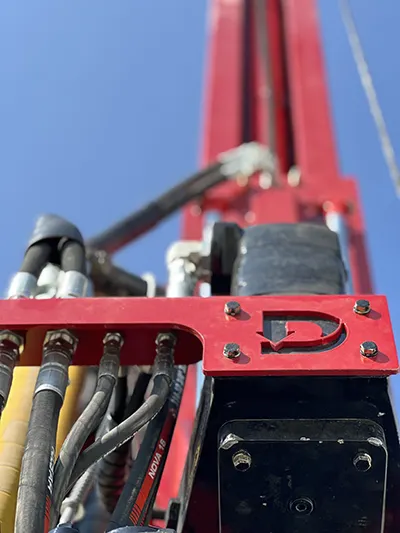 Why you need a Derex Dual Rotary Drill
Flexibility – Derex Dual Rotary Drilling Rigs can adapt to various drilling processes such as mud, reverse circulation, and flooded reverse circulation. With its exceptional flexibility, the DR allows you to explore new applications and venture into areas that were once deemed inaccessible. Dual rotary drilling ensures your confidence in successfully drilling the hole on the very first attempt!
Straight Holes –Dual rotary drilling technology consistently delivers straight holes, which makes it ideal for water wells, geothermal and exploration drilling? A straight hole will reduce stress on the casing and casing welds, which minimizes the risk of breaking a weld. This also makes the installation of screens and pumps easy in water well applications.
Speed – Dual rotary drilling is by far the fastest method of drilling and tripping available today. When compared to traditional drilling methods some companies have reported a 50% increase in production
Casing Extraction –The powerful lower rotary drive is efficient at pulling back casing, which simplifies the process of exposing  well screens or abandoning a well.
Discharge Control – The cuttings are directed through a discharge swivel, which allows you to safely control the location of the dumping or monitoring.
Noise Reduction – When compared to traditional drilling methods, dual rotary generates significantly less noise, allowing you to expand into areas sensitive to sound pollution.
Greater depth capacity – Dual rotary drilling rigs can reach significant depths, making them suitable for various applications, including water wells, geothermal installations, and environmental drilling projects. Derex DR Drills have reached as deep as 1800 feet.
Ease of Maintenance – The Derex DR rigs come with a hydraulic feed system that is directly linked, eliminating the need for maintenance of chains, sheaves, or sprockets. This unique feed system ensures there is no load on the mast crown, enabling a straightforward and lightweight mast design without compromising on pullback capability.
Equip Conventional Tooling – Dual rotary drilling doesn't require any different drilling tools. Equip your drill string with conventional DTH hammers, tricone bits or drag bits.